'World's most expensive' vodka bottle stolen from Danish bar
Comments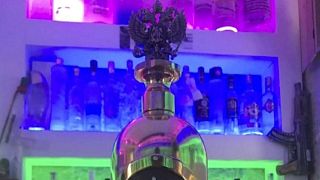 Copenhagen police are investigating the theft of the "world's most expensive" vodka bottle, which disappeared from a Danish bar on Tuesday (January 2).
The bottle is estimated to cost 1.3 million dollars (€1,080,560).
Denmark's TV2 reported that the bottle, created by the Russian luxury car maker Russo-Baltique, is made with 3 kilograms of gold and has a replica of the radiator guard used for the Russo-Baltique cars. The bottle is topped with a diamond-encrusted cap designed to look like a Russian imperial eagle.
The owner of the bar, Brian Ingberg, told Denmark's Ekstra Bladet that the bottle resembles a vintage car front.
Ingberg released CCTV footage of the robbery to the Associated Press. In the video, a masked individual can be seen looking around the storage room before selecting the expensive bottle.
Nothing else was stolen, according to the AP.
Ingberg said the bottle was uninsured and on a loan from a Russian businessman.
The vodka bottle was previously featured in the popular American drama series, House of Cards, where the Russian president gifts a bottle to US President Frank Underwood.