Deadly passenger train crash in South Africa
Comments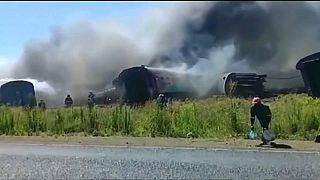 In South Africa, at least 12 people died and many more were injured after a train struck a lorry, derailed and burst into flames.
TV footage shows fire engulfing one of the train's carriages after the accident on the rail line between Port Elizabeth and Johannesburg.
Transport Minister Joe Mas-wang-anyi said the train jumped the tracks after hitting the truck as it attempted to negotiate a level crossing.
"And you can see for yourself the truck driver was taking chances. He thought he was going to pass through little did he know the train was going to hit him," he explained.
Police are carrying out an investigation and the exact cause of the accident has yet to be established.
Meanwhile officials fear the death toll is set to rise.