Havana's Malecon threatened by climate change
Comments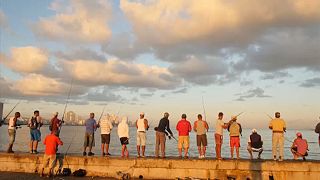 Havana's elegant Malecon is one of the city's most famous avenues - where locals and tourists come to walk and fish, or enjoy the sunset.
Built to protect the city from pounding Caribbean waves, the coastal boulevard itself is now under threat.
"The recent hurricane caused irreversible damage that has force us to demolish several buildings along the Malecón," says local historian Eusebio Leal.
As temperatures and sea waters rise - and storms become more frequent and more intense - the seafront structures can't hold up.
One recent study found that up to 70 percent of buildings along the Malecon's oldest stretch will have to be torn down.
The Cuban government is planning to rebuild the seawall and erect wave-breaking structures along the coast in a bid to stop seawater from reaching the Malecon.
But it might not be enough.
By some estimates, the water around Havana's northern coast could rise by as much as one meter by the end of this century.
And if the Malecon doesn't survive, the city will lose something irreplaceable.
"Malecon is Havana's smile. It's the city's face. It's a 'great couch' where at night people can take in the breeze and chat in groups," says Leal. "For Havana's residents, there is no doubt the Malecon is their contact with the sea".