Apple apologises to customers for slowing down older iPhones
Comments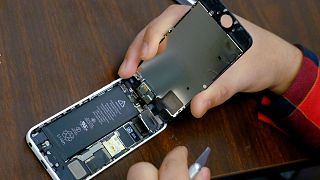 Apple has apologised to its customers amid criticism over the company's admission that it deliberately slows down some ageing iPhone models.
In a statement posted to its website on Thursday (December 28), the company said it was slashing prices for battery replacements and would issue software in early 2018 that would enable customers to monitor their phone's battery health.
The price of an out-of-warranty battery replacement is being reduced from $79 (66 euros) to $29 (24 euros) for anyone with an iPhone 6 or later, it said.
The move came after Apple admitted earlier this month to slowing down some older models with flagging batteries to "prolong the life" of the devices.
The disclosure prompted widespread criticism, with some accusing the company of purposely slowing down the phones to encourage customers to buy newer models.
At least eight lawsuits have been filed in the US alleging that the company defrauded users by slowing devices down without warning them.
Apple also faces legal action in France and Israel over the issue.
In its statement on Thursday, the company acknowledged that customers felt let down, but insisted that it has always sought to make iPhones last as long as possible.
"We have never — and would never — do anything to intentionally shorten the life of any Apple product, or degrade the user experience to drive customer upgrades," it said.
"Our goal has always been to create products that our customers love, and making iPhones last as long as possible is an important part of that."