The iPhone X had its moment. Is it now over?
Comments
By Alyssa Newcomb with NBC News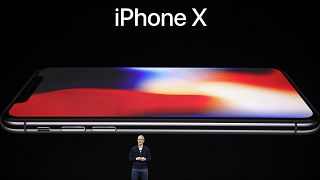 Copyright

Marcio Jose Sanchez AP

-
With each iPhone that Apple releases, CEO Tim Cook always says that it's the best and most beautiful — and if ever there was a crown jewel for the Cupertino company, it's the iPhone X.
But are people already over it?
Apple's stock suffered a post-Christmas slump, closing the day on Tuesday down 2.5 percent amid reports that some analysts forecast lukewarm demand for the flagship device in the first quarter of 2018.
Apple did not immediately respond to NBC News' request for comment, but the company has a history of not commenting on market rumors.
The iPhone X made a big splash when it was introduced to the world in September and rode that wave into November, when the 10th anniversary iPhone was released.
Gene Munster, managing partner at Loup Ventures, told NBC News he believes reports out of Asia are "correct that Apple is cutting production" but said those cuts "will still be at levels that suggest the iPhone X is doing well."
Related:The iPhone X is here. Is this as good as it gets for Apple?
"Every iPhone cycle, Apple ramps up production in the fall and cuts it in December. This is similar to past years when iPhone demand was healthy," said Munster.
But some analysts are warning the novelty may have already worn off for potential customers.
"Bad news here is that the highly publicized and promoted X did not boost the global demand," said a note from JL Warren Capital LLC, according toBloomberg. Other reports have also pointed to the premium $999 price tag as a contributing factor to a forecasted slump.
While the news appears to have shaken investors, some analysts, including Munster, have warned that this is completely normal after the holiday season.
"I think a lot of what we are seeing is that the velocity of sales is decreasing," said Patrick Moorhead, principal analyst at Moor Insights & Strategy. "But that's natural, given we are passing the holiday selling season."
Cook also seems to have no complaints.
During a recent trip to China, the Apple CEO said he was pleased with the demand the company was seeing for the iPhone X.
Despite the premium price and reported production issues, Apple had record pre-sales of the iPhone X. Three times as many orders were placed for the iPhone X compared to the iPhone 8 and iPhone 8 Plus, according to Slice Intelligence.
With a market valuation of nearly $900 billion, Apple is the world's most valuable company — and with a few more hits, could be on its way to becoming the world's first trillion dollar corporation.