World's 'tallest' Lego tower erected in Tel Aviv in memory of young cancer victim
Comments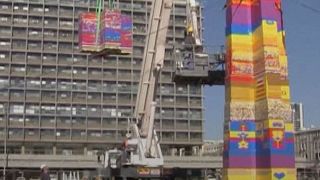 A 36-metre tall Lego tower has been erected in Tel Aviv in memory of a young cancer victim.
"Omer Tower" is named after 8-year-old Lego fan Omer Sayag who died in 2014.
The multi-coloured structure, which was completed on Wednesday (December 27), took two weeks and more than 500,000 plastic blocks to build.
Now standing in Tel Aviv's Rabin Square, the tower was constructed using cranes and the help of thousands of volunteers under a project launched by Omer's teachers just over a year ago.
The structure is still awaiting Guinness World Records verification, but at a reported 36 metres, it is expected to be confirmed as the world's tallest lego tower.
The previous record was set at 35.05 metres in Milan in 2015.