Dozens die in Philippines shopping centre fire
Comments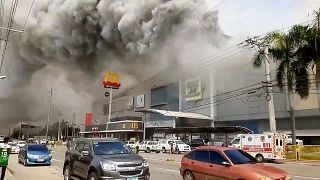 At least 37 people are now feared dead in the Philippines after a major fire ripped through a shopping centre in Davao.
Officials in the city have said there is "zero" chance of finding any of those still missing alive.
The blaze began at the four-storey NCCC Mall on Saturday, trapping many inside. Most of the victims are thought to have been workers stuck on the top floor in a call centre.
Video filmed by one firefighter's bodycam from inside the burning building was posted on social media.
Davao is the biggest city in the southern Philippines lying around 800 kilometeres from the capital Manila.
Photos have also emerged of Rodrigo Duterte meeting families of the missing.
The President, who was Mayor of the city for about two decades and still lives in the city, made the unannounced visit to the shopping mall with his daughter.
The cause of the blaze is still not known, though it is said to have broken out near shops where furniture, clothes and electrical appliances were sold. An investigation has been launched.