Philippine storm: Death toll of 200 expected to rise as rescuers search for victims
Comments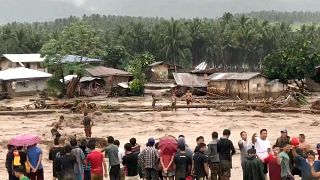 Rescuers in the Southern Philippines are searching for survivors of a tropical storm which has killed about 200 people and left thousands missing or homeless.
Storm Tembin swept through the southern island of Mindanao from late on Friday triggering floods and landslides.
Police there released footage of officers wading through chest-deep water as they surveyed a swamped neighbourhood.
The Cagayan de Oro police station said on its Facebook page that the officers were carrying out search and rescue operations in Cagayan de Oro City.
But their rescue efforts arebeing hampered by continuing heavy rain, power cuts and blocked roads.
Disaster officials said many villagers had ignored warnings to leave coastal areas and move away from riverbanks, and got swept away when flash floods and landslides struck.
The Philippines is battered by about 20 typhoons a year and warnings are routinely issued, but the level of destruction wreaked by Tembin came as a surprise.
In the early hours of Sunday, Tembin, known as Vinta in the Philippines, was south of the Spratly Islands, heading towards southern Vietnam. It had gathered strength, with maximum winds of 120km/h (75 mph).
Police and disaster officials said they expected the toll of about 200 dead to rise with more fatalities likely to be discovered in remote farm communities and coastal areas, as rescuers reached them and restored communication and power links.