At least 12 dead in Mumbai blaze
Comments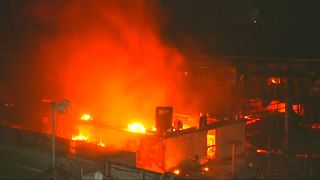 At least 12 people are dead after a fire swept through a building in India's financial capital, Mumbai.
More than 50 people were taken to hospital.
Most of the victims were women attending a birthday party at the One Above rooftop restaurant.
Police say the fire started on the top floor just after midnight and engulfed the rest of the four-storey building in less than 30 minutes.
Local media reports say people took shelter in a bathroom where they became trapped. The same reports say all the victims died of suffocation.
The building, located in the former industrial area of central Mumbai, houses several upscale restaurants
The cause of the fire is under investigation.