Anwar al-Bunni: We need justice to rebuild Syria
Comments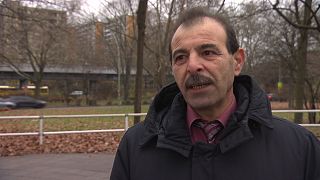 Euronews met the renowned Syrian human rights lawyer Anwar al-Bunni in the German capital, where he has lived and worked for the past three years. He is pushing for legal action to be taken against those responsible for the systematic and widespread torture in Syrian prisons: "Without justice," he tells Euronews reporter Hans von der Brelie in Berlin, "no country in the world can be rebuilt."
No time for impunity any longer.

Syrian Human Rights lawyer
Together with the Berlin based European Center for Constitutional and Human Rights ECCHR, al-Bunni filed criminal complaints to the German Federal Public Prosecutor against high-level officials of the Syrian Intelligence Services and the Syrian government. The complaints aim for the issuance of international arrests warrants.
Al-Bunni was born in Hama, Syria to a Christian family active in dissident leftist politics. For decades, he defended Syria's political dissidents, often pro-bono. Al-Bunni was head of the short-lived European Union-funded Center for Legal Research and Studies until it was shut down by the government following his 2006 arrest.
In May 2006 al-Bunni was detained by security forces after signing the Beirut-Damascus Declaration calling for democratic reform. A year later he was given a five-year sentence for "spreading false or exaggerated news that could weaken national morale," according to his lawyer.
He was also fined for operating the Center for Legal Research and Studies without government permission. Amnesty International designated him a prisoner of conscience. After his release from prison in 2011, he continued to defend detainees. Al-Bunni escaped from Syria at the end of 2014.
In 2008 he received the Front Line Award for Human Rights Defenders at Risk. The following year he was awarded the Human Rights Award by the German Association of Judges.