Why we'll miss you: Remainers send Brexit apologies to Europe
Comments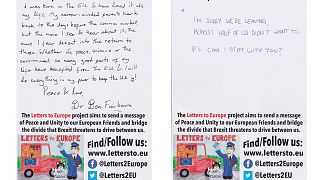 Hundreds of EU supporters in the UK have written letters to their European neighbours about why they oppose Brexit.
We want peace. trade, holidays, research and unity

Briton opposed to Brexit
Collected over six months at anti-Brexit protests across the UK, the letters were delivered earlier this month to people in Brussels by 'EU Supergirl' Madeleina Kay as part of her 'Letters to Europe' campaign.
From travel and study, to economic opportunities and ideas of unity, find out why 'Remain' supporters want to stay in Europe: