Homes evacuated in UK anti-terror raids
Comments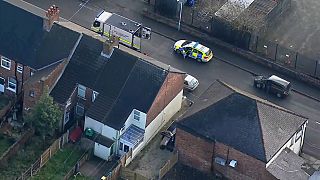 Homes in Chesterfield, the UK, have been evacuated as the Army bomb disposal squad have gone into a house linked to terrorism.
Officers from the counter-terrorism police force have already arrested four men in Sheffield and Chesterfield, on terror charges and searched five properties as part of morning raids.
The men, aged between 22 and 41, have been taken to a police station in West Yorkshire for questioning.
The arrests were intelligence-led and pre-planned as part of an ongoing investigation by Counter Terrorism Policing North East and Mi5.
Police said in a statement that they had arrested all of the people they were looking for in the operation.
The evacuated homes were not thought to be at risk, but the area remains cordoned off as a precaution.