Russia's 'Paris Hilton' ready to take on President Vladimir Putin
Comments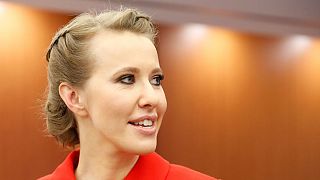 President Vladimir Putin warned on Thursday that some of his opponents would destabilize Russia and usher in chaos if they were elected in a presidential election next year, but promised genuine political competition.
Putin, who is running for re-election in March, was answering a question at his annual news conference about opposition leader Alexei Navalny who looks unlikely to be allowed to contest the election due to what Navalny says is a trumped up criminal case.
The question was put to him to Ksenia Sobchak, a television personality who has said she plans to run against Putin in the same election, which polls suggest Putin will comfortably win.
Putin, in response, accused Sobchak, who has said she wants to attract voters who are "against all candidates," of not offering any positive solutions to the problems facing Russia.
Euronews takes a look at the former reality TV star, once called Russia's Paris Hilton and now a 36 year old mother who says she ready to take on the controversial and powerful Russian leader.