Russian presidential candidates prepare to challenge Vladimir Putin in the election race
Comments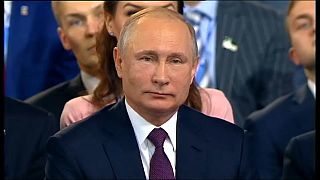 President Vladimir Putin plays a game of Night Hockey in Moscow's Red Square; a way of letting off some steam perhaps, before being formally backed by Russia's ruling party for next years presidential election.
Putin is running as an independent candidate, keeping a distance from the top Kremlin party, United Russia, which consists mostly of officials and has been dogged by corruption allegations against some of its top members.
Despite that, Putin showed up to speak at United Russia's congress.
Party head and Prime Minister Dmitry Medvedev said the party was Putin's party, and his key political resource.
Medvedev promised it would support Putin in the election, which is scheduled for March 18.
"We will give you, Vladimir Vladimirovich, all possible support, now and in the future," said Medvedev, addressing Putin by his first and patronymic names.
Putin has been in power since 2000 either as president or prime minister.
If he wins what would be a fourth presidential term, he will be eligible to serve another six years until 2024, when he turns 72.
Putin thanked Medvedev for the support and announced some goals for the future, such as higher economic growth and better healthcare.
"We need to achieve a long-range steady increase in real incomes of citizens, to increase pensions and social support,"
With his approval ratings topping 80 percent, 65-year-old Putin is set to easily win secure his fourth, six-year term in the March 18 vote.
He'll be facing Russian Communist Party candidate, Pavel Groudinine, who was unexpectedly appointed, instead of their chief Gennady Zyuganov, a fixture of past campaigns,  in a bid by the party to widen its political appeal. 
57-year-old Grudinin is the director of a successful strawberry farm near Moscow.
Other veterans of past elections — liberal Grigory Yavlinsky and ultranationalist Vladimir Zhirinovsky — are also running.
The involvement of Ksenia Sobchak, a sharp-tongued 36-year-old TV host, could raise public interest in the race.
Sobchak, who was formally nominated by the liberal Civic Initiative party, presented her presidential programme on Saturday,  defending a change in government in Russia from a presidential republic to parliamentary republic.
Sobchak has criticized the Kremlin's policies and called for democratic changes, but she has steered clear of any personal criticism of Putin, who in the 1990s served as a deputy to Sobchak's late father, who was the mayor of St. Petersburg.
Putin's main opponent for the Kremlin, opposition leader Alexei Navalny, is barred from the race by an embezzlement conviction which he calls politically motivated.
Nevertheless, the 41-year-old anti-corruption crusader has run a yearlong grass-roots campaign and staged waves of rallies to push the Kremlin to let him run.
Navalny has threatened to organize a campaign for boycotting the vote, which would be an embarrassment to the Kremlin, which is worried about voter apathy and focused on boosting turnout to make Putin's victory more impressive.
But on Sunday, he must be nominated as a candidate for his party at a meeting of his supporters.