Number of jailed journalists hits 17-year high
Comments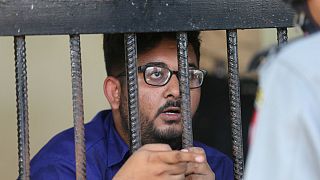 The number of journalists imprisoned worldwide has reached its highest level this century, according to a new report.
Campaigners say the 262 reporters behind bars this year reflects a dismal failure to address a global crisis around press freedom.
Turkey, with 73 behind bars, was the worst offender, followed by China and Egypt, according to the US-based Committee to Protect Journalists (CPJ).
It comes as two journalists from Reuters were this week arrested in Myanmar and face charges that could land them 14-year jail terms. They were putting together reports on a military crackdown on the Rohingya Muslim minority in Rahkine State.
"Far from isolating repressive countries for their authoritarian behavior, the United States, in particular, has cozied up to strongmen such as Turkish President Recep Tayyip Erdoğan and Chinese President Xi Jinping," wrote Elana Beiser, editorial director at CPJ.
"At the same time, President Donald Trump's nationalistic rhetoric, fixation on Islamic extremism, and insistence on labeling critical media 'fake news' serves to reinforce the framework of accusations and legal charges that allow such leaders to preside over the jailing of journalists.
"Globally, nearly three-quarters of journalists are jailed on anti-state charges, many under broad and vague terror laws, while the number imprisoned on a charge of 'false news', though modest, rose to a record 21."
The number of journalists killed so far in 2017 stands at 37 - if this holds until the end of the year it will be the lowest since 2002.