It's hard to imagine anything more fragile than a Ghraoui chocolate creation: such as the delicate hand-painted violin or autumn leaves which seem ready to snap off at the slightest touch. And yet the family that makes them have withstood almost 200 years of challenges with an extraordinary fortitude in their ride from extreme success to utmost adversity.
Founded in 1805, by a trading family in Damascus, the company introduced artisan chocolate to the Middle East in 1931. At first, they gained attention by offering small silver and gold trinkets with their boxes but later won over a devoted clientele with the quality of their confectionery. The family gained the title of Purveyor to Her Majesty, the Queen of England, and won many awards.
Then came the tough times. Political instability led to a climate of austerity and sales plunged. In the 1960s the business was nationalised twice. Each time the head of the family stepped up to restart. Once more, their efforts were rewarded with international success. A few years after the turn of the millennium, Ghraoui chocolates were awarded the 'Prix d'honneur' award in 2005 at the Salon du Chocolat trade fair in Paris.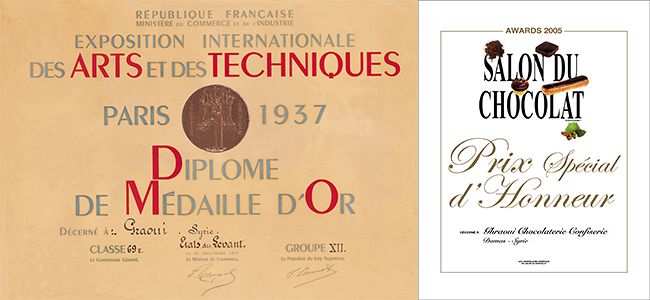 Then came the biggest blow. The civil war that ripped through Syria forced the closure of the factory. On a short trip to Paris, Bassam S. Ghraoui and his wife Rania decided not to return home. Giving up on the business that had defined their family for so many generations was a prospect difficult to face. "After 200 years, the name Ghraoui has its own soul and determination," says Mrs Ghraoui.