Saakashvili supporters rally in Kiev
Comments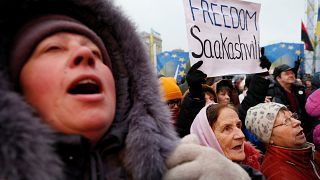 Thousands of anti-government protesters rallied in the Ukrainian capital Kiev on Sunday calling for the release of opposition leader Mikheil Saakashvili from custody and for Ukrainian President Petro Poroshenko to step down.
Saakashvili was arrested on Friday on accusations of colluding with a Ukrainian businessman tied to Russia to topple President Poroshenko.
Saakashvili, president of his native Georgia for nine years until 2013, moved to Ukraine after a popular uprising there and served under Poroshenko as a regional governor from 2015-2016, before falling out with the Ukrainian leader.
Mikheil Saakashvili's wifes Sandra Roelofs spoke at the rally and said the Ukrainian authorities had crossed a red line by arresting her husband.
"We need to show him (President Petro Poroshenko) that politics is not a business and people are not goods," she said.
Saakashvili, the former governor of Ukraine's Odessa region was stripped of his citizenship this summer. He could now be sent back to his native Georgia, where he faces abuse of office charges.