'Dictator, fascist': anti-Duterte rally in Manila
Comments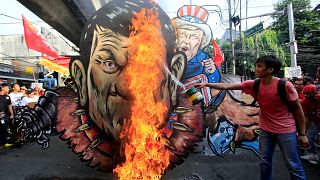 -
In Manila, hundreds rallied on Thursday (November 30) against Philippine President Rodrigo Duterte, protesting his threats to declare a "revolutionary government".
They carried placards and banners calling Duterte a "dictator" and "fascist".
But on their way to the presidential palace, they were pushed back by police using water cannon.
Meanwhile, a rival demonstration in support of Duterte unfolded peacefully and gathered about as many people.
Both rallies were held on 154th anniversary of the birth of Filipino revolutionary hero Andres Bonifacio.
Both groups were mainly dressed in red, the colour for revolutionary movements.
Abolish the constitution?
The anti-Duterte were mainly left-wing activists protesting the president's threats to abolish the constitution to crack down even harder on crime and drug trafficking.
They fear his deadly war on drugs, which has so far claimed the lives of nearly 4,000 suspects, is only the start of a slide toward dictatorship.
They also call Duterte a US "lapdog", for his close relationship with Donald Trump, and set on fire an effigy depicting the Filipino president with an Uncle Sam figure seated on his back.
In several speeches since October, Duterte hinted at establishing a "revolutionary government," which would abolish the country's current constitution.
However, his spokesperson said in a statement on Thursday that the Philippine leader would not declare a revolutionary government.