Watch: Philippines' Duterte oversees smuggled luxury cars being destroyed
Comments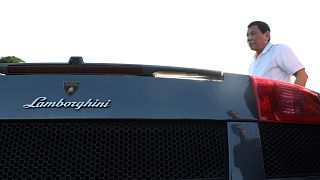 Copyright

Robinson Ninal/Presidential Photo/Handout via REUTERS
As part of his anti-corruption drive, Philippines President Rodrigo Duterte watched the destruction of over 60 luxury smuggled cars on Monday.
Bulldozers crushed nearly five million euros worth of luxury vehicles, which included a Lamborghini, Porsche, Mercedes Benz and several motorcycles.
Duterte said to a crowd afterward that the destruction was meant to show the country as a place of investment and his toughened stance against illegal importers.
The President has promised to fight corruption, crime, and drugs since he was elected in June last year.