Diplomacy in Myanmar: two different approaches
Comments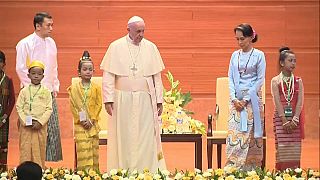 The Myanmar government has been given just six months by the UN Committee on the Elimination of Discrimination against Women to produce an "exceptional report" on rapes and sexual violence perpetrated against Rohingya women and girls by its security forces in Rakhine State.
It's just the fourth time since 1982 that such a demand has been issued by the international body, and comes in the wake of global concern about the plight of Rohingya muslims, 620,000 of whom have fled to Bangladesh in recent months.
The Committee said it had also asked for information on "investigations, arrests, prosecutions, convictions and sentences or disciplinary measures imposed on perpetrators, including members of the armed forces, found guilty of such crimes".
#Myanmar Rohingya abuses may be crimes against humanity, UN rights experts warn https://t.co/52RbPr0K9ppic.twitter.com/3g0mbvckxe

— UN Human Rights (@UNHumanRights) October 4, 2017
Pope: diplomatic omission
The development comes as the Pope follows diplomatic advice "not to use the word "Rohingya" during his official visit to Myanmar":http://www.euronews.com/2017/11/28/pope-francis-fails-to-mention-rohingya-muslims-in-myanmar-speech. His speech, made in the presence of de-facto leader Aung San Suu Kyi, spoke about the need to respect human rights, but did not name the embattled ethnic minority.
"The future of Myanmar has to be peace," he said: "a peace founded on respect for dignity and the rights of each member of society. On respect of every ethnic group and its identity. On respect of the State of law and of the democratic order, which allows every individual and every group, without exception, to offer their rightful contribution to the common good''.
The decision to pick his words carefully will not have come easily to a Pope with a reputation for plain-speaking. But Catholic leaders in Myanmar were worried that saying "Rohingya" out loud would be liable to cause a diplomatic incident, putting the country's 700,000-strong Catholic minority in danger.
I want my visit to embrace all the people of Myanmar and to encourage the building of an inclusive society.

— Pope Francis (@Pontifex) November 28, 2017
Many Buddhists in Myanmar see the Rohingya, who have lived in Myanmar for generations, as unassimilated Muslim separatists whose propagation poses a threat to Buddhist, and nationalist, identity, and refer to them as "Bengalis". They do not recognise the term "Rohingya muslims".