Pope uses Christmas Mass to spread message of hospitality
Comments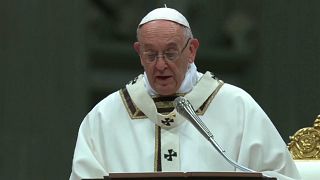 The Pope's Christmas message appealed for solidarity with migrants and refugees.
Speaking at Midnight Mass in St Peter's Basilica in the Vatican City Pope Francis said those fleeing conflict had no other options.
He said;
"We see the tracks of millions of people who do not choose to go away but, driven from their land, leave behind their dear ones. In many cases this departure is filled with hope, hope for the future."
Yet for many others this departure can only have one name: survival". 
He said Christians should welcome refugee.
"Mary and Joseph, for whom there was no room, are the first to the One who comes to give all of us our document of citizenship. The One who in his poverty and humility proclaims and shows that true power and authentic freedom are shown in honouring and assisting the weak and the frail."
It was the 81 year old Pope's fifth Christmas Mass.