Pope Francis heads to Myanmar and diplomatic minefield
Comments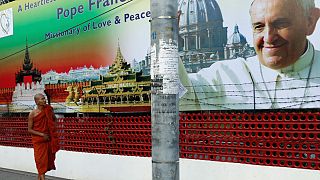 Pope Francis left Rome on Sunday (November 26) evening – his next stop Myanmar. Awaiting him in the staunchly Buddhist country, a small but eager Catholic community and a potential diplomatic minefield after the military's brutal crackdown on Myanmar's ethnic Rohinga.
Catholics make up about 1 percent of the population and pilgrims are heading to Yangon from around the country, hoping to attend mass given by their spiritual leader on Wednesday.
"It has been 500 years since Myanmar entered the Catholic religion," said pilgrim U Khun Aung, "and the pope has never been here before. I want to get blessings from him. I want to hear his holy mass".
Others are waiting to hear how Francis handles what top UN officials have called the ethnic cleansing of Myanmar's Muslim minority Rohingya. Francis has called them his "persecuted brothers and sisters" but even using the taboo word "Rohingya" during his visit could spark a backlash and stall reconcilliation.
"On the whole, I am very optimistic," said Khin Zaw Win, a political analyst and former political prisoner. "After all that has happened in Myanmar this year, I think his visit is to be welcomed. It's very timely and it can do a lot of good".
While the pope must tread carefully in public, the real impact of his visit will likely come from his private conversations with top officials. He is expected to meet with Myanmar's powerful military chief as well as the country's political leader, Ayn San Suu Kyi.
Pope Francis will also visit neighbouring Bangladesh – now home to some one million Rohingya refugees. More than 620,000 Rohingya have fled Myanmar since August 25. It began with a military crackdown against Muslim insurgents and has led to what rights groups call crimes against humanity, including murder, rape, torture and forcible displacement. Myanmar's military denies the allegations.