Syria's President Assad visits Russia to meet President Vladimir Putin
Comments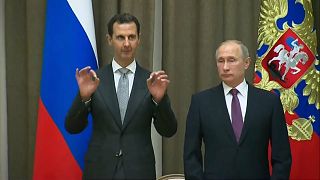 Syrian President Bashar al-Assad has visited Russia to give thanks to the man wh saved his regime, President Vladimir Putin.
The visit in Sochi lasted four hours, and comes as Russia announces it is winding down military operations in Syria.
'Thanks to the Russian army, Syria has been saved as a country, and a lot has been done to stabilize the situation in Syria. And I hope that in the nearest future we will finish the fight against terrorism in Syria. Even though, obviously, there more hotbeds of terrorism that will appear, in the World, in the Middle East and in Syria,' said Putin.
The two men's talks focused on the political phase of resolving the conflict, but fighting continues on the ground. with airstrikes in the city of Harasta and in Douma supporting ground troops, and in Misraba and Arbeen.