Corruption protests find few echos in Romanian village life
Comments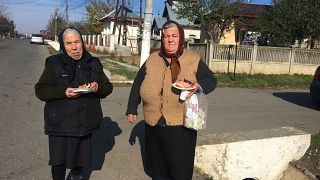 It's a sunny Sunday in Singureni. Many residents are just emerging from church, others sit around benches in their front gardens enjoying the last of the autumn's heat.
This is how it is... Romanians are used to a hard life

Oil worker
The silence is broken by the sound of wood-cutting machines as fuel is prepared for the coming winder.
The echoes of the protests that took place earlier this month in the capital Bucharest can barely be heard here, and the anti-corruption drive seems further away than the almost 40 kilometres that separate the village from the country's political centre.
Florica Trandafir, 67, went to church as she does every Sunday. "We pray for our family, for our health," she says.
She saw news of the protests on television but she's not sure exactly what the demonstrators wanted. "I don't know much… I don't watch… I go to sleep," she tells Euronews.
In last December's parliamentary election, Florica Trandafir voted for the current ruling Social Democratic Party (PSD). Her village is in Giurgiu county, where the Social Democrats won its highest share of the vote in the country – almost 69% – and Singureni topped the PSD score in the county: over 89%. The party won the election nationally with over 45% of the vote.
Earlier this year, Romania had its biggest protests since the 1989 revolution, after the new Social Democrat government tried to push through a law to decriminalise some offences that would have let those convicted of corruption, including politicians, off the hook.
Recently, the government announced new proposals that would reduce the responsibility of Romania's National Anticorruption Directorate (DNA) and stop it from being able to investigate magistrates. At the same time, the Ministry of Justice stands to gain more control of prosecutors.
Romania regularly ranks as one of the most corrupt European Union countries. However, in recent years its anti-corruption efforts have won praise from Brussels and NGOs.
On November 4, an estimated 12,000 people took the streets of Bucharest, as did thousands more mainly in cities elsewhere in the country. The same week, the government also faced protests over tax reform measures, shifting a burden for some payments onto employees leading to suggestions that take-home pay could fall.
But the demonstrations fail to strike a chord with Florica Trandafir. She worked for six years at a shoe factory before giving birth to five children, then stayed at home to raise them. Now, two of her children are living with their families in Spain, like 3.4 million other Romanians who decided to move abroad for work, according to a United Nations report in 2016.
Florica was officially told that to receive a pension, she has to pay the minimum required contribution. For now, she says that she and her husband live on his pension – 520 RON (111 euros) a month.
"I don't have a pension, I don't have anything. Not even social benefits," she says. "You know what the mayor told me? To divorce my husband – then I could receive social benefits! God knows how we survive on the money, we have to pay the electricity… When the pension money runs out, I make bread, sometimes polenta…"
Let them do their job
A few kilometres away, near the central village market, a group of men sit around drinking whisky. Among them is the mayor, Marian Patuleanu. He came back from a holiday in India with the bottle as a present for his friends.
"I respect those who protest, but that doesn't mean they're right," he declares. "I'm with the other side in the country, which doesn't protest. If we chose people to represent us in the Romanian parliament, we should let them do their job and after their four year mandate… we vote in a civilised manner and change them if they didn't do the things we wanted."
Marian Patuleanu once represented the opposition liberals but switched to the social democrats, because that gave him access to more European money, enabling him to pave all the streets in the village and to put more into schools.
"I too don't agree with many things. That doesn't mean I have to go out in the street to revolt," he adds. "The rest of the country? I think they are happy with what's happening, since many people don't protest."
According to a survey by Kantar Public for the European Parliament published in October this year, 62% of Romanians consider that the country is going in the wrong direction: a 10% increase in six months.
The mayor says the village is among the poorest in Romania, surviving thanks to state handouts and where 40% of people are elderly.
Romanians are used to a hard life
Dumitru Costache, 41, an unemployed construction worker has little time for the protesters either. He also voted for the Social Democrats.
"We are concerned about rising prices in the shops. Corruption doesn't really interest us," he says. "There is corruption all over the world… Everybody is running after money."
Oil worker Catalin Olteanu, 31, did not back the government – but he is similarly unimpressed with the protesters.
"I gain nothing from voting. Rising prices affect our pockets, but this is how it is… Romanians are used to a hard life," he adds.
A rare dissenting voice is that of 50-year-old Tudor Puiu, who has been working for 30 years as a driver in Bucharest.
"These protests are a very good thing," he says. "It can't go on like this. There are only thieves making a mockery of the population… It's total corruption. Last year I didn't vote because I'm sick of them."
In front of their house, the Anton family sit on a bench. Constanta and Constantin are both 79, and used to work for the old communist Agriculture Production Cooperative (CAP). Neither are sympathetic to the protesters.
She voted for the local mayor, but not for the ruling party nationally. He is nostalgic for the old days.
"There was no party better than the Communists, they cared about everybody, they gave a job to everybody, they took you from the street to give you a job. And these people, what did they do? They destroyed the factories, they destroyed everything," he says.
Click through the gallery below for a selection of views from Singureni
By Lorelei Mihala