Putin and Erdogan meet for the fourth time in eight months
Comments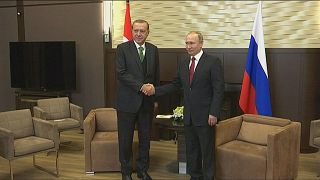 Turkish President Recep Tayyip Erdogan and his Russian counterpart, President Vladimir Putin will meet for the fourth time in eight months today.
Business communities on both sides are hoping its an indication of improving relations.
In Moscow, restaurant owner and chairman of organization aimed at boosting Turkish Russian trade (RTIB), Naki Karaaslan, said things had not been easy since relations fell to an all time low after Turkey downed a Russian war plane at the end of 2015. .
"There were around 3 thousand entreprises before, now we have got only around 1500. The maximum trade turnover was 35-36 million of dollars (per year), now we haven't got even the half of that. So we need to think how to make this turnover grow in the future."
Following the warplane incident Russia imposed a number of economic sanctions on Turkey including the suspension of visa-free travel to Russia for Turkish citizens.
"We had the visa free policy and there were plenty of tourists, around 300 000 tourists from Turkey to Russia. Now the tourist flow is very low, and it affected all of the types of business and the restaurant business as well''
When the two leaders meet in the Black Sea resort of Sochi, Syria is likely to dominate talks but there are those that hope trade won't be forgotten.