Clearing the air in The Vatican: cigarette sales to be banned
Comments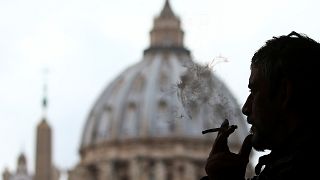 The sale of cigarettes in The Vatican is to vanish into a puff of smoke. Pope Francis aims to clear the air with a complete ban starting next year. It will make the enclave just the second state ever to impose such a ban. It has been smoke-free since 2002, but duty-free packets were still readily available to buy since.
The Vatican is believed to have made nearly 10 million euros per year from the sales.
But the Holy See's spokesman said the health issues associated with the habit had prompted the decision. The World Health Organization estimates smoking-related deaths number more than seven million per year.