Maradona lends support to embattled Maduro
Comments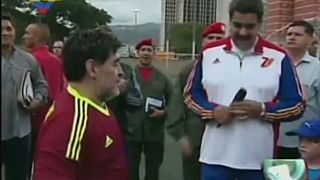 A football legend meets an embattled president.
Maradona has appeared with the Venezuelan leader Nicolas Maduro on a pitch in Caracas, which has seen months of political unrest.
The men played around with a ball for the cameras and signed autographs.
"I come to give my support to Nicolas," said Maradona. "We are all soldiers of Nicolas."
"Viva Maduro!" said Maradona. "Viva Maradona!" replied Maduro.
Maradona also announced plans to host his own TV show during the 2018 World Cup with a Venezuelan channel.