Ban on cruise ships in central Venice planned
Comments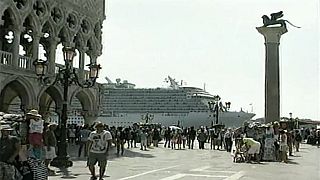 The days of large cruise ships passing through one of Venice's main central canals could be numbered.
The government and regional authorities have come up with a new plan that would ban the largest cruise ships from passing in front of St Mark's Square amid demands for action from UNESCO.
After a meeting on the issue, the Mayor of Venice, Luigi Brugnaro, says the plan was approved almost unanimously and it takes into account the positive benefits of the cruise industry.
He said they wanted to be "clear to UNESCO and the world that there is a solution", saying proposals have been shared with the region and central government.
Amid growing complaints about the presence of cruise ships, the plan would eventually see larger vessels diverted around the historic central canal to the city's commercial seaport.
The proposal is seen as a compromise between those who wanted an all-out ban on cruise ships in Venice's main canals and those concerned the crucial tourist industry would suffer.