Italy: Lombardy and Veneto regions vote on autonomy
Comments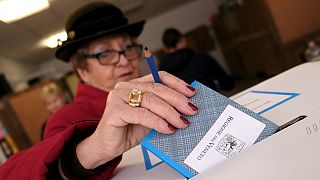 Voters have been casting their ballots in two wealthy regions of northern Italy on claiming more autonomy from Rome.
Lombardy and Veneto, both run by the once openly separatist Northern League, have been holding non-binding referendums
Unlike the recent vote in Catalonia, these are within the law.
The ruling party hopes the result will deliver it a mandate to negotiate better financial deals from the national government.
Back in the 1990s the Northern League campaigned for an independent state of "Padania" stretching across the north. Now the two regions use arguments about efficiency and bureaucracy – saying they're better than others to the south.
And crucially they complain they pay far more in taxes than they receive. Lombardy, home to Milan, accounts for around a fifth of Italy's economy.
The League's opponents say the vote is a waste of time and money. Lombardy's referendum doesn't specify the areas where it wants more autonomy.
There are fears that a strong "yes" vote could deepen the old north-south divide dating back to before Italian unification in the 19th century.
ICYMI: 10 things you need to know about Italy's Lombardy and Veneto autonomy referendums https://t.co/2ZvmVA8ECWpic.twitter.com/zEmQQmlq2S

— euronews (@euronews) October 21, 2017
Who needs Rome? Italian regions vote on autonomy https://t.co/aagOQHHagjpic.twitter.com/DHkaKIiUFc

— euronews (@euronews) October 20, 2017