UN calls on Myanmar to halt violence against Rohingya
Comments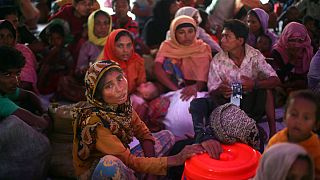 The UN Security Council has called on Myanmar to rein in its military campaign in Rakhine state and to allow thousands of Muslim Rohingya to return home.
In a unanimous statement backed by China, the council strongly condemned the violence that has forced 600,000 Rohingya to flee across the border to Bangladesh.
"The Security Council calls upon the government of Myanmar to ensure no further excessive use of military force in Rakhine state to restore civilian administration and apply the rule of law and to take immediate steps in accordance with the obligations and commitments to respect human rights," announced Italian Ambassador to the UN Sebatiano Cardi. Italy currently holds the presidency of the council.
Myanmar's ambassador to the UN Hau Do Suan immediately described the statement as partly unbalanced.
"We are deeply concerned by the adoption of the presidential statement on the situation in Myanmar. We think those allegations try hard to balance the text and reflect the reality, however it fails to give sufficient recognition to the government of Myanmar for its efforts to address the challenges in Rakhine state. It is also singling out a member state based on accusations and falsely claimed evidence."
De facto leader Aung San Suu Kyi who has been criticised for not speaking out against the violence has for the first time since the conflict began visited Rakhine and pledged accountability for rights abuses.
The refugee crisis was sparked two months ago following a military clampdown after attacks by militants from the Rohingya Muslim minority.
#Rohingya not only group persecuted in #Myanmar, #Christian minorities are as well. #RohingyaCrisis#ChristianCrisis#Refugees#Genocidepic.twitter.com/Ge9USnw8lY

— Stop Violence (@Stop_V_A_W) November 6, 2017