EU calls for release of Reuters journalists charged in Myanmar
Comments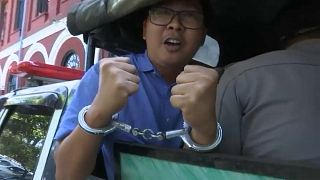 The European Union's called on authorities in Myanmar to release two Reuters journalists after prosecutors charged them for violating the official secrets act.
The case against the men, who were covering the country's Rohingya refugee crisis, carries a maximum sentence of 14 years.
They were arrested in December after police accused them of violating a colonial-era law by acquiring "important secret papers" from two policemen - something the pair deny.
The law has rarely ever been enforced, until now.
In one of its firmest statements yet, the 28-nation bloc, which is a significant donor to Myanmar, said that the case of Wa Lone and Kyaw Soe Oo was an important test for the country's commitment to developing democracy after years of military rule.
"Having heard the charges brought under the Official Secrets Act of 1923, we continue to expect the Myanmar authorities to ensure the full protection of these journalists' rights and to release them as quickly as possible," an EU spokesman said, adding that EU envoys had been present in court.
There's been an international outcry at their treatment with some saying Myanmar is restricting press freedom. 
Describing media freedom as "the foundation and a cornerstone of any democracy", the spokesman added: " The European Union considers this case an important test for Myanmar's commitment to press freedom, an independent judiciary and the development of democratic institutions."
The EU also highlighted that the Reuters journalists had been arrested a month ago in connection with reporting on the situation in Rakhine state where hundreds of thousands of Muslims have fled a military crackdown on militants.
"The EU reiterates its call on the Myanmar government to ensure transparency and to make serious efforts in order to hold accountable all those involved in serious human rights abuses in the context of the ongoing crisis in Rakhine state," it said.