Rohingya crisis deepens in Bangladesh
Comments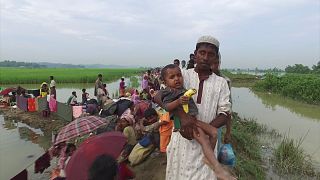 The Rohingya's long exodus
A new wave of Rohingyas has arrived in Bangladesh in recent days – 8,000 refugees from Myanmar. They add to the hundreds of thousands already there, fleeing what the United Nations has described as the ethnic cleansing of Myanmar's long-reviled Muslim minority by the country's security forces.
"To visit Rakhine… & say nothing about the crimes [against Rohingya] that occurred there is an act of complicity." https://t.co/ccoV5DbCvWpic.twitter.com/5mKNorU1zi

— Kenneth Roth (@KenRoth) 4 novembre 2017
Waiting at the border
Euronews met those entering Bangladesh through the Anjuman Para border crossing – they were waiting for authorisation to settle into the refugee camps in the southeastern Cox's Bazar district.
"The soldiers came to our house looking for my father as he was hiding from the army," 17-year old Setare told us. "They killed my mother with a knife and when my father returned, they killed him, too. It took me eight days to reach this border. When there was no more food, I ate leaves and whatever I could find in the forest."
Abdulrahim, a father-of-five was cradling a baby in is arms: "I've been on the road for 22 days. During this time my father died. I waited at the border for three days," he said.
The refugees arrived with barely anything. Most Rohingya are stateless in Myanmar and many fled without papers. Those who managed to save any official documents took great care of them: besides the refugees we spoke to, dozens of land property and marriage certificates were laid out to dry in the sun – these documents could be crucial the day they want to return home.
NGOs are now familiar with these mass entries from the Burmese bank of the river Naf. Their mobile teams are ready to assist the newly arrived as soon as they cross the no-go area between the two countries. They bring doctors, food and water, and provide hot meals and high energy biscuits.
In #Bangladesh, #EU#humanitarian partners are on the frontline to provide #aid to arriving #Rohingya#refugeespic.twitter.com/jbZalM2pyA

— Pierre Prakash (@ECHO_Asia) 5 novembre 2017
Ismail Faroque Manik is Nutrition Deputy Programme Manager at Action Contre la Faim (Action Against Hunger): "This situation at the borders has been ongoing since August," he told us. "This is the fourth time there has been an influx at this crossing point. Previously, almost 35,000 people entered here and they still need four to five days to get the permission to settle in the camp."
The most vulnerable refugees were evacuated immediately. Some were too weak to walk. Humanitarian workers have reported many refugees with bullet wounds and broken bones from falls along the slippery roads.
Over-flowing refugee camps
They have all now been moved to Balukhali, a recently opened settlement connected to the growing Kutupalong refugee camp.
New extensions are being built around the original camp, which was opened in 1992 for so-called registered refugees – those registered with the UNHCR and the Bangladesh government. Today, close to half a million people, most of them unregistered, are living here in mud huts, tents and under sheets of tarpaulin.
On his first visit to Kutupalong at the end of October, the EU Commissioner for Humanitarian Aid, Christos Stylianides, expressed "shock" at the scale of the crisis:
"We have to persuade the Myanmar government that we're talking about human rights. It's not a religious conflict, it's not a religious issue. It's just human rights, fundamental rights for any person, for any human being. I agree with UN Secretary General Guterres that maybe the only way to describe this situation is ethnic cleansing," he said.
A children's crisis
More than half of those who have fled are children and many are living in squalid conditions without enough food or water. Thousands are believed to be unaccompanied – either orphaned or separated from their families. Fearing an outbreak of disease, authorities have set up vaccination booths in various camps for children under five.
I spoke to #Rohingya children and families who fled violence in #Myanmar and now need our help. This crisis is a children's emergency. pic.twitter.com/g41lrmCmux

— Helle Thorning S (@HelleThorning_S) 4 novembre 2017
Worst exodus in such short time since Rwanda
"While entire villages continue to flow towards Bangladesh, looking for a place to settle in these increasingly crowded refugee camps, the scale of the exodus in such a short period of time is being compared to the 1994 Rwanda genocide," says euronews' Monica Pinna reporting from the refugee camp.
The UN has voiced fear that if the stateless Rohingya refugees return from Bangladesh they may "be incarcerated or detained in camps on the other side" as part of clearance operations by Burmese authorities.
This doctor's first hand account of the Rohingya genocide is absolutely horrifying pic.twitter.com/K2oyc4IIDr

— NowThis (@nowthisnews) 2 novembre 2017