Students react to Manhattan attack
Comments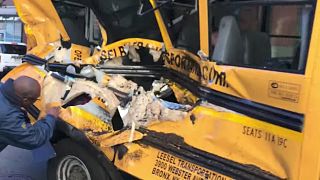 Students from Stuyvesent High School spoke of the confusion and panic that occurred after eight people were killed and 11 injured in a terror attack in Lower Manhattan.
One student said: ''All the kids were having a fun time, just messing around, but out of the blue there is a giant crime scene. It is shocking that this happened one block away from the school.''
Another student told Euronews correspondent, Michela Monte: '' My teacher looked outside and there was damage to the side of a bus but we didn't know until later when people said there was a shooting.''
One student spoke of the panic that ensued when the attack happened: '' People started panicking, we thought there was a shooting at the college at first.''
The 29-year-old suspect was taken to hospital after the incident.