Olympic flame arrives in South Korea, 100 days before the 2018 Winter Games
Comments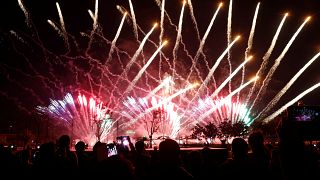 The Olympic torch has once arrived in South Korea to mark 100 days until the PyeongChang Winter Olympics.
The flame arrived at Incheon airport to a show of singing, dancing and speeches.
South Korea's favorite figure skater and former Olympiad, Kim Yuna and Prime Minister Lee Nak-yon stood side by side to ignite the flame to a ceremonial cauldron and start the Olympic torch relay.
Over the coming months, 7,500 torchbearers will carry the flame 2,018 kilometers around South Korea before arriving at PyeongChang Olympic Stadium on February 9.
Touring the stadiums, arenas and villages ear-marked for the Olympics, work is still ongoing, but officials say the construction itself is more than 99% complete.