Miss Peru contestants share gender violence stats instead of body measurements
Comments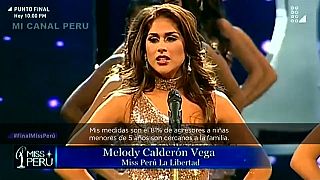 Contestants in the Miss Peru beauty pageant broke with tradition this week by reciting statistics on violence against women instead of giving their body measurements.
The measurements segment of the pageant traditionally sees contestants detail their bust, waist and hip size, but the aspiring beauty queens this year gave a fact about women's rights in lieu of their inches.
Miss Peru Lima, Camila Canicoba, began the section stating: "My measurements are: 2,202 cases of femicide reported in the last nine years in my country."
Chincha's representative, Bélgica Guerra, went on to tell the audience that her measurements are "the 65 percent of university women who are assaulted by their partners."
The overall winner of the contest, Romina Lozano, representing the constitutional province of Callao, said her measurements are "3,114 women victims of trafficking up until 2014."
Competition organisers also joined in by displaying newspaper clippings of prominent cases of gender-based attacks as the contestants made their way across the catwalk in bathing suits.
Competitors were also asked how they would combat femicide in the contest's final segment.
Peru's government says 800 women were murdered in gender-related violence in the six years leading up to 2015.
In September 2015, Congress passed a law detailing comprehensive measures to prevent and punish violence against women and set up refuges for them.
But last year tens of thousands of people took to the streets in cities across the country, calling on authorities to do more to tackle the issue.