China's Communist Party unveils new top leadership panel with President Xi Jinping at its head
Comments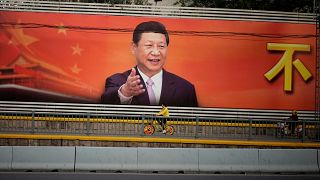 China has unveiled its new six-strong leadership team who will work directly beneath President Xi Jinping.
After Xi was immortalised by amendments to the Communist Party constitution, it came as no surprise that none of the officials who will comprise the Communist Party's Politburo Standing Committee, China's highest council of power, is a likely successor. Apart from Xi and premier, Li Keqiang, all the new appointments are over 60 years' of age.
Xi will continue to lead the Communist Party, and therefore China, for another five years.
"I take this not only as an endorsement of my work, but also as an encouragement that will push me to move forward,"
Breaking with recent precedent by failing to include a clear successor, Xi Jinping, who came to power at the end of 2012, is guaranteed to obtain a new mandate as President next March.