China's President praises the successes of 'socialism' at Communist Party Congress
Comments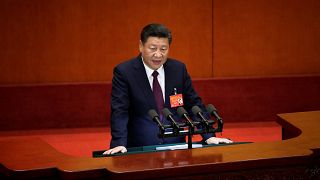 Chinese President Xi Jinping has opened the country's biggest political event, the Communist Party Congress with a pledge to build a 'modern socialist country.'
Held once every five years, under tight security, the week-long congress, determines who will rule China and the country's direction for the next term.
His speech, infront of more than 2,000 delegates in Beijing's Great Hall of the People lasted for about three hours.
Mr Xi listed China's recent achievements, saying that "socialism with Chinese characteristics in this new era" meant China had "become a great power in the world." and that the country should not copy foreign political systems.
He also described a two-stage plan for China's "socialist modernisation", to be achieved by 2050 and warned against separatism in an apparent reference to movements in Xinjiang, Tibet and Hong Kong, highlighting Beijing's firm opposition to Taiwan independence over the last five years.
He added that China "would not close its doors to the world" and promised further economic reform, including relaxing market access for foreign investment.
Mr Xi also mentioned his wide-reaching corruption crackdown within the Party that has punished more than a million officials.
The congress will culminate with the selection of a new Politburo Standing Committee that will rule China's 1.4 billion people for the next five years.