'They didn't shut her up': British fighter plays Ariana Grande in Raqqa
Comments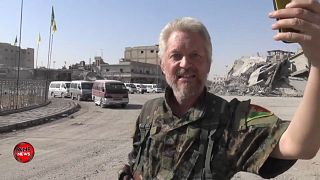 As a British actor who's worked in Hollywood, Michael Enright is used to cameras. But in the Syrian city of Raqqa, he was a volunteer fighting alongside Kurdish forces against self-styled Islamic State (ISIL).
After the US-led coalition recaptured the group's de facto capital Raqqa last week, Enright was filmed playing an Ariana Grande song on Naim Square, where ISIL carried out many beheadings under its three-year rule.
Enright said that since ISIL struck his home city of Manchester by bombing Grande's concert there last May, killing 22 people and wounding dozens, it was fitting that the pop star's music should be heard in Raqqa.
"You didn't shut her up, and you didn't shut Manchester up," Enright said, holding up his rifle as Grande's hit 'Bang Bang' blared out of his mobile phone.
"Freedom is coming back here now and singing is coming back here," he added.