Thousands call for justice for murdered Malta journalist
Comments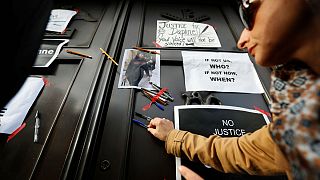 Thousands have gathered on the island of Malta to demand justice following the death of investigative journalist Daphne Caruana Galizia who died last Monday in a car bomb.
Caruana Galizia was known for an anti-corruption blog. Just before her death she had claimed there were "crooks everywhere" in Malta.
Sunday's rally was organised by non-governmental groups some of whose representatives addressed the crowds:
"You remember three years ago, we gathered in the streets of Paris after the Charlie Hebdo killing. We gather today in Valletta for Daphne and everybody can say 'I am Daphne, Je suis Daphne," said Christophe Deloire, Reporters without Borders General Secretary.
A Maltese journalist enraged dozens of powerful people with her investigations. Few expect her killing to be solved. https://t.co/zpo6wvo2CS

— New York Times World (@nytimesworld) October 21, 2017
The rally brought together many of Malta's politicians with some notable exceptions: the prime minister and the opposition leader who were the chief targets of Caruana Galizia's reporting.
Her family has refused to endorse the government's 1 million euro reward for information leading to the arrest of her killers.Instead they have call for Prime Minister Joseph Muscat to resign..
Caruana Galizia reported in April that the wife of Maltese Prime Minister Joseph Muscat was the beneficiary of a secret company in Panama, called Egrant, in which $1 million had been deposited from Azerbaijan. The claim was strenuously denied by the prime minister and by his wife.
A magisterial inquiry on the Egrant charges is still under way.