#TruthNeverDies: Ending impunity for crimes against journalists
Comments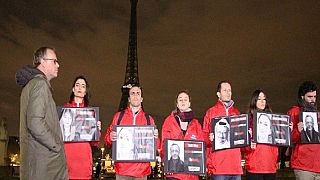 Copyright

Reporters Without Borders
The United Nations Educational, Scientific and Cultural Organisation (UNESCO) is using Friday, November 2, to draw global attention to the journalists risking their lives to report the truth.
The date was chosen to mark the assassination of two French journalists in Mali on 2 November 2013.
It has called for further acts to improve the safety of journalists, warning that impunity for crimes against media workers still represent a major challenge to democracy.
"Despite increased public awareness of these problems, statistics show that much remains to be done to shed light on the overwhelming majority of crimes against media workers," UNESCO said.
Between 2006 and 2017, more than a thousand journalists were killed over the globe, with 182 reporters losing their lives in the line of duty, the Paris-based agency noted in a report.
However, "impunity for these crimes remains shockingly high as only one out of ten such killings was brought to trial," it added.
#TruthNeverDies
To increase public awareness of the issue, UNESCO has launched the #TruthNeverDies campaign, to encourage the publication of articles written by, or in tribute to, journalists killed for doing their job.
UNESCO has also released a Report on the Safety of Journalists and the Dangers of Impunity, which highlights the increase in the number of journalists killed outside of armed conflict zones in recent years. Indeed, last year, a majority of slain journalists (55%) were not killed in conflict zones — many were reporting on topics tied to corruption, crime and political wrongdoing.
The Eiffel Tower's lights were switched off last night in a minute of silence to remember murdered journalists and to mark the International Day to End Impunity for Crimes against Journalists, which takes place today, 2 November.
Members of French NGO Reporters Without Borders (RSF) gathered in front of the Paris landmark holding posters showing pictures of murdered journalists, including Saudi reporter Jamal Khashoggi, who was killed last month in his country's consulate in Istanbul, Turkey.
RSF said 77 members of the media, including 62 journalists, have been killed so far this year, with a further 337 imprisoned.
Global Impunity Index
The Committee to Protect Journalists also released its annual Global Impunity Index, which calculates the number of unsolved journalist murders as a percentage of each country's population, ranking each country.
This year's top 10 offenders, in order, are: Somalia, Syria, Iraq, South Sudan, Philippines, Afghanistan, Mexico, Colombia, Pakistan and Brazil.