Trump to allow release of classified JFK files
Comments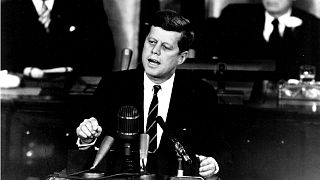 US President Donald Trump has announced that he plans to allow the release of "long blocked and classified" files on the assassination of former president John F Kennedy.
The files about Kennedy's 1963 assassination were already scheduled to be opened by the US National Archives on October 26, but the president is entitled to extend their classified status.
Taking to Twitter, Trump said he would allow their release "subject to the receipt of further information."
Subject to the receipt of further information, I will be allowing, as President, the long blocked and classified JFKFILES to be opened.

— Donald J. Trump (@realDonaldTrump) 21 octobre 2017
Kennedy was shot dead by a sniper in Dallas, Texas, in November 1963.
In 1992, Congress ruled that all JFK documents be released within 25 years, unless deemed by the president to harm national security.
Trump's announcement, which was reportedly made against the advice of the National Security Council, could pave the way for the release of the final batch of documents related to the case.