Spain's King Felipe makes political address at Princess of Asturias Awards
Comments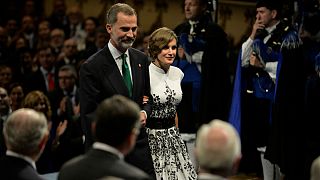 Spain's King Felipe today (October 20) delivered a speech at the Princess of Asturias Awards, during which he also made a political address.
Using terms like "loyalty" Felipe addressed all Spaniards saying they "cannot renounce what we've built together".
He continued by stating that Catalonia is and continues to be a part of 21st Century Spain.
On the subject of the European Union, Felipe said that the alliance "enhanced Spaniards' prosperity and wellbeing", transcending states while "respecting our identities".
Watch the full speech here
His appearance at the ceremony came as tensions in Spain mount over next steps following Catalonia's independence vote.
Spanish Prime Minister Mariano Rajoy today blamed Catalan leaders for the crisis facing the country and dubbed the deadlock "unacceptable".
He also confirmed that he would announce measures to impose direct rule on Catalonia tomorrow at an emergency cabinet meeting. The measures come from the never-used-before Article 155.
Rajoy was in attendance the event along with the European Council's head Donald Tusk and European Commission President Jean-Claude Juncker.