19th Chinese Communist party Congress opens with reforms in the air
Comments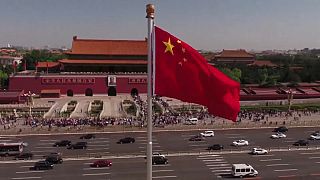 The 19th National Congress of the Chinese Communist party convenes on Wednesday, the first since 2012, and it is being seen as a watershed moment for the party in its drive to spread the riches of its recent breakneck
development more widely, and cast a longer shadow over world affairs.
To underpin it all the economy needs to be strong, but the growth rate has slowed in every year since the last Congress. Some slower growth is by design as China tries to develop more sustainably than in the past.
"I think it's been a tremendously impressive effort. China's economy is huge, it's complex. This is a task, this kind of transition is a task that would be hard for any government, even for a smaller and less complex economy. I think that the Chinese government, Chinese people have gone through this period of transition of modernization, and it's bringing good results," said the IMF's First Deputy Managing Director David Lipton.
Key reforms to cut the size and role of the state sector however have had limited effect.
"We expect the Party and the country to deepen the reforms, clearly set the objectives of reform and development and to achieve new breakthroughs in reforms of state-owned enterprises," said Congress delegate Ma Zhengwu.
Analysts say the economy remains over-reliant on debt to drive growth, with bank lending on track for another record year this year and the government ramping up stimulus spending. S&P Global Ratings cut China's long-term sovereign credit ratings by one notch to 'A+' from 'AA-' last week, saying its prolonged period of strong credit growth has increased its economic and financial risks.