Death toll rises in Californian wildfires
Comments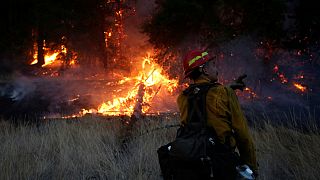 The death toll from California's deadliest fires in the state's history has risen to at least 40, with hundreds of people still missing.
More than 10,000 firefighters supported by air tankers and helicopters are battling 16 major wildfires in areas north of San Francisco that have consumed an area larger than New York City.
"The intensity of the fire was incredible. I think we are at 36 people lost and there are some multiple unaccounted for. The potential for more fatalities is huge, which is very, very sad,"
said Captain Jimmy Bernal of the Rancho Adobe Fire Distric
Fast-moving fires spread by shifting winds have forced around 100,000 people to leave their homes.
The fires have damaged or destroyed about nearly 6.000 structures, reducing homes and businesses to ash.
With 235 people still missing on Saturday in Sonoma County alone and rubble from thousands of incinerated dwellings yet to
be searched, the authorities expect the death toll to climb.