Turkey seeks jail sentences for human rights activists
Comments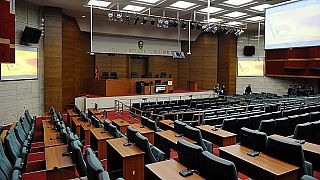 Turkish prosecutors are demanding up to 15 years in jail for human rights activists detained in a raid on a workshop led by Amnesty International in July.
The accused were held after attending a workshop on digital security on an island off Istanbul. Eight of them have been held since then, accused of being members of and aiding an "armed terrorist organization".
The accused include the director of Amnesty International Turkey Idil Eser.
Amnesty has condemned the indictment as a tawdry patchwork of innuendo and untruths and a damning indictment of theflaws in Turkey's justice system.
Tens of thousands of people have been arrested in Turkey in the wake of last year's coup attempt, sparking international concerns about democracy and free speech under c President Erdogan.