11 pedestrians injured after traffic incident in London
Comments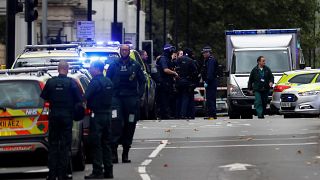 Eleven people have been injured after a car mounted a busy pavement in London. According to London Police, the collision was a road traffic incident and is not terrorism-related.
First picture of car used to hit pedestrians outside the Natural History Museum pic.twitter.com/iGaWL6nqCE

— Danny smith (@doglab) 7 octobre 2017
The collision took place at 2.20 pm (1.20pm GMT) on Exhibition Road outside the Natural History Museum, the fourth most popular tourist attraction in the United Kingdom.
Most of those hurt had leg and head injuries and nine people were taken into hospital, according to the London Ambulance Service.
UK Prime Minister Theresa May has thanked "first responders" and the "actions of the members of the public". "My thoughts are with the injured", she added.
The Metropolitan Police confirmed that a man had been detained at the scene. Mobile footage shows a man being pinned down on the ground.
Inmediaciones de Natural History Museum #Londres Hombre reducido en el suelo antes de que llegue policía, no sabemos q pasa. OndaCero_es</a> <a href="https://t.co/4tAQhwEpf5">pic.twitter.com/4tAQhwEpf5</a></p>— RR NEWS (RosaRodaNews) 7 octobre 2017
Witnesses described hearing a loud bang and seeing people running and screaming in panic.
"We were next to the South Kensington metro station, there were a lot of policemen. Suddenly an officer yelled, telling us all to run. Everyone one rushed off in panic and many people were screaming," said Leonard.
"We were walking next to the Science Museum when heard bang, bang… At first, we thought it was gunfire. Then we saw a man being pinned down on the ground by two other men," another witness recalled.
What's going on in South Ken by the Natural History Museum?? Hope everyone ok pic.twitter.com/sz0Z7lQZcd

— Annabel (@tatbels) 7 octobre 2017
Officers were called after reports of a collision outside the museum.
The Natural History museum said earlier on Twitter that a "serious incident" had taken place and that it was working with police.
There's been a serious incident outside the Museum. We are working w/ metpoliceuk</a> and will provide an update when we have more information</p>— NaturalHistoryMuseum (NHM_London) 7 octobre 2017
After the incident, a museum spokesperson said no one was allowed to enter the building and people were let out through a different exit. Nearby Tube stations South Kensington and Sloane Square were evacuated.
A man arrested after the incident has since been released from custody.
The 47-year-old was held after Saturday's crash on suspicion of dangerous driving.
Britain is on its second highest security alert level, meaning an attack by militants is considered highly likely. British citizens have been victim of five terrorism attacks this year, three of which involved vehicles.