Iraqi forces recapture Hawija from ISIL
Comments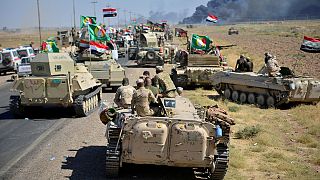 Iraqi forces have recaptured the centre of Hawija, one of the Islamic State group's last strongholds in the country, the military said on Thursday.
However, some fighting continued in an area to the north and east of the town where the militants were surrounded.
Hawija, located some 230 km north of Baghdad, close to the oil-rich city of Kirkuk, had been under ISIL's control since 2014.
Some 78,000 people were estimated to be trapped in the area, according to the United Nations.
With its recapture, the only area remaining under ISIL's control in Iraq would be a stretch alongside the western border with Syria.
Crumbling caliphate
The offensive on Hawija was launched two weeks ago. It's being carried out by U.S.-backed Iraqi government troops and Iranian-trained Shi'ite paramilitary groups known as Popular Mobilisation.
This brings them into direct contact with Kurdish Peshmerga fighters who control Kirkuk, a multi-ethnic region claimed by both Baghdad and the Kurdistan Regional Government (KRG).
Islamic State militants continue to control the border town of al-Qaim and the region surrounding it, near the eastern Syrian province of Deir al Zor, the group's other main stronghold in Syria.
They also hold parts of the Syrian side of the border, but their self-proclaimed caliphate has been crumbling as they retreat in the face of two different sets of hostile forces: a U.S.-backed, Kurdish-led coalition on the one hand and Syrian government troops with foreign Shi'ite militias backed by Iran and Russia on the other.
On Wednesday, Iraqi forces also retook the road linking Kirkuk to the city of Tikrit, south of Hawija, which ISIL had controlled for the past three years, security sources told AFP news agency.