Back from 'nowhere, USA': O.J. Simpson freed after nine years in jail
Comments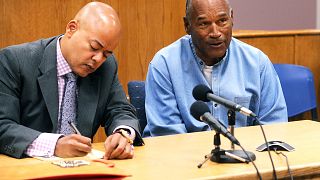 So how does O.J. Simpson feel being a free man, after nine years in a Nevada prison?
Just hours after he was released on parole in the early hours of Sunday morning (Oct. 1), the former American football star and actor was spotted at a gas station and asked what it felt like to be on the outside.
The question appeared to slightly irritate the 70-year-old, convicted for a 2007 botched armed robbery at a Las Vegas casino hotel.
"Look, I've been in nowhere, USA, for the last nine years doing nothing. Nothing has changed in my life. What do you expect? Nothing's changed," Simpson replied, asking for "a break".
Simpson spoke from the back of a white SUV at a gas station the New York Post said was in Amargosa Valley, Nevada, about 145 km northwest of Las Vegas.
Asked where he was heading, Simpson replied: "None of your business."
It was not immediately clear where Simpson planned to live permanently. He has talked about moving back to Florida to be with his family, but Florida Attorney General Pam Bondi told Fox News on Sunday Simpson was not welcome there.
Wherever Simpson goes, controversy seems to follow.
Midnight release
Nevada's Department of Corrections posted a seven-second video on Facebook showing Simpson being released at 12:08 a.m. local time (0708 GMT) on Sunday.
Simpson wore a blue baseball-style cap, blue denim pants and a jacket, and white sneakers as he walked through a door to freedom after a prison guard said: "Here you go. Come on out."
The midnight timing was "to ensure public safety and reduce the potential for incident," the department said in a brief statement that accompanied the video and a photo showing Simpson signing some papers.
Simpson won his freedom from a parole board last July, at a hearing that did not take into account his 1990s trial for the murder of his ex-wife Nicole Brown Simpson and a friend, Ron Goldman.
He was found not guilty in 1995 following the sensational, 13-month trial in Los Angeles, which was televised live daily and transfixed much of the country.
A civil court jury subsequently found him liable for the deaths and ordered him to pay $33.5 million in damages to the victims' families, a judgment that remains largely unpaid.