Rockfall kills Briton at Yosemite's El Capitan
Comments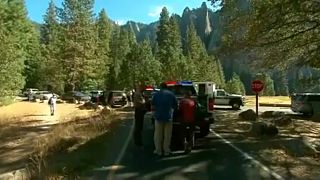 Over a thousand tons of granite have fallen onto a popular hiking trial in California's Yosemite National Park killing a British man and badly injuring his wife.
The dead man has been identified as 32-year-old adventurer Andrew Foster of Wales. His wife, who has not been named, was airlifted out of the park to a hospital where she was being treated for her injuries.
The towering El Capitan landmark is considered a world-class challenge for climbers.
Roads have been re-routed around the huge granite formation.
Yosemite sees about 80 rock falls a year, but most do not cause injuries or deaths.
The last fatality was in 1999.
Larger rockfall on El Capitan today, with one injury. Debris reached a road, so detour in place; drive with caution in Yosemite Valley. pic.twitter.com/wciTNR5SkT

— Yosemite National Pk (@YosemiteNPS) September 29, 2017
Yosemite climber sent us this photo. He says a piece of granite the size of an apartment building came crashing down the Waterfall Route. pic.twitter.com/agFA0YjVPc

— Christina Fan (@ChristinaABC30) September 27, 2017