Caribbean islands assess damage from Hurricane Maria
Comments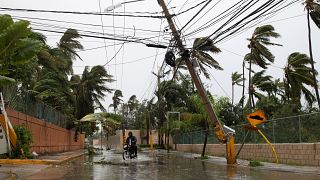 At least 15 people have died and 20 remain missing on the small Caribbean island of Dominica, where Hurricane Maria first made landfall on Monday.
The Associated Press reported that Prime Minister Roosevelt Skerrit cried as he spoke to a reporter on the nearby island of Antigua. He said more than 15 people died due to the storm and that it was a miracle that the death toll was not greater.
Hundreds of homes have been destroyed and the island's airport has been shut down.
In Puerto Rico, roads have turned into rivers, and forecasters say the ongoing heavy rains raise the risk of deadly mudslides.
U.S. President Trump said Maria, packing winds of up to 250 kilometres per hour, "totally obliterated" the island.
It was the strongest storm to hit Puerto Rico in almost 90 years.
However, the full extent of its damage remained unclear as it knocked out electricity across the entire island. Authorities said it might take months for power to be completely restored.
The storm also hit the Dominican Republic on its way north to the Bahamas.
More than 4,000 tourists were evacuated from the eastern tip of the island to the capital Santo Domingo. Officials said so far Maria didn't damage the country's vital tourism infrastructure.
But more heavy rains are forecast for the coming days.